Corn Meal Crust White Pizza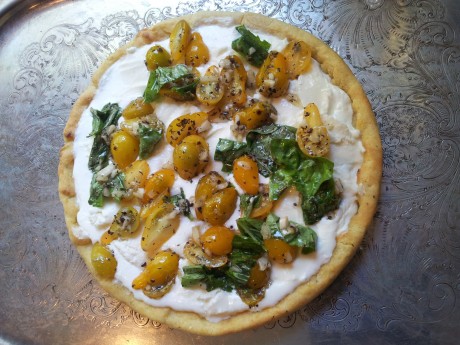 Whole Milk Ricotta Cheese
Yellow Pear Cherry Tomatoes
Fresh Mozzarella
Olive oil
Italian Seasoning
Crushed Red Pepper
Basil
Garlic
Pepper
Salt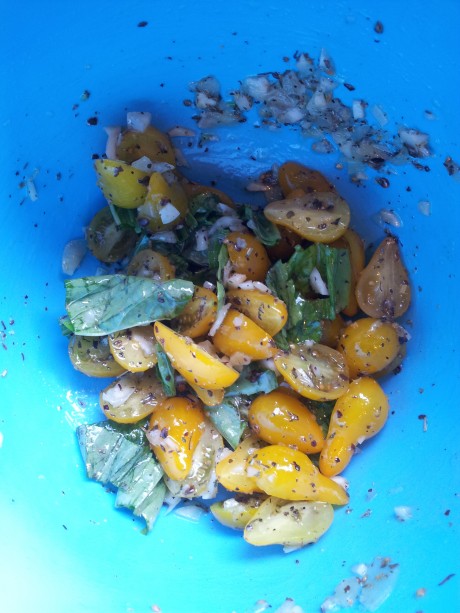 Preheat Oven 375. Smear the ricotta cheese over the corn meal pre baked crust and bake for 20 minutes. In a mixing bowl add all ingredients but the fresh mozzarella. After 20 minutes top with fresh mozzarella and evenly lay mixed ingredients over top of pizza. Bake for 20 minutes. Remove cool then cut.
If your husband is one of those guys who furrows his brow because he thinks wine that doesn't come out of a box is a waste of money then pour the wine I have selected in his koozie covered beer can before he sees the bottle.
2006 Alice Bonaccorsi Etna Rosso Valcerasa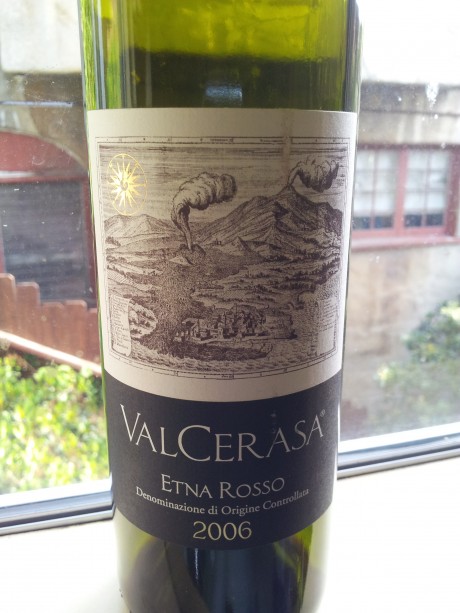 80% Nerello Mascalese and 20% Nerello Cappuccio under $30 dollars
For people who like their wine to taste like flat soda beware because your mouth is about to get a pleasurable beating pairing this wine with the creamy white velvety textured pizza with dominate hints of garlic (if you made it right and didn't wimp out) will sooth the shock to your taste buds as you pair it with this Sicilian wine that has a strong core of minerality.
Whips of dried red cherry…plum and strawberry tease the palate…once the alcohol relaxes your tense soul you can finally appreciate the sexy aromas of leather and cured meat…followed by crushed dried flowers and volcanic earth that balance the tannins as they suck your cheeks inward.
Sicily has more vineyards than any of the other Italian regions competing with Apulia for first place as the largest wine producer. Yet, Sicilians consume less wine per capita than any other Italian.
Many grapes are made into raisins, used in local cooking, and Sicilian grapes also play a large role in creating dessert wines, which require a higher concentration of grapes and are consumed in smaller quantities. In fact, in the world of international wine, Sicily is renowned for the many outstanding dessert wines, such as the world-famous Marsala.
The Bonaccorsi family has been tending the vineyards on the eastern slope of Etna at an altitude of 500-800 meters for four generations. The high altitude and the volcanic soil produce wines of immense character and structure. Alice Bonaccorsi is the sole proprietor of Valcerasa and manages the estate with her husband Rosario Pappalardo. Only indigenous varietals are grown which includes Nerello Mascalese, Nerello Cappuccio and Carricante.